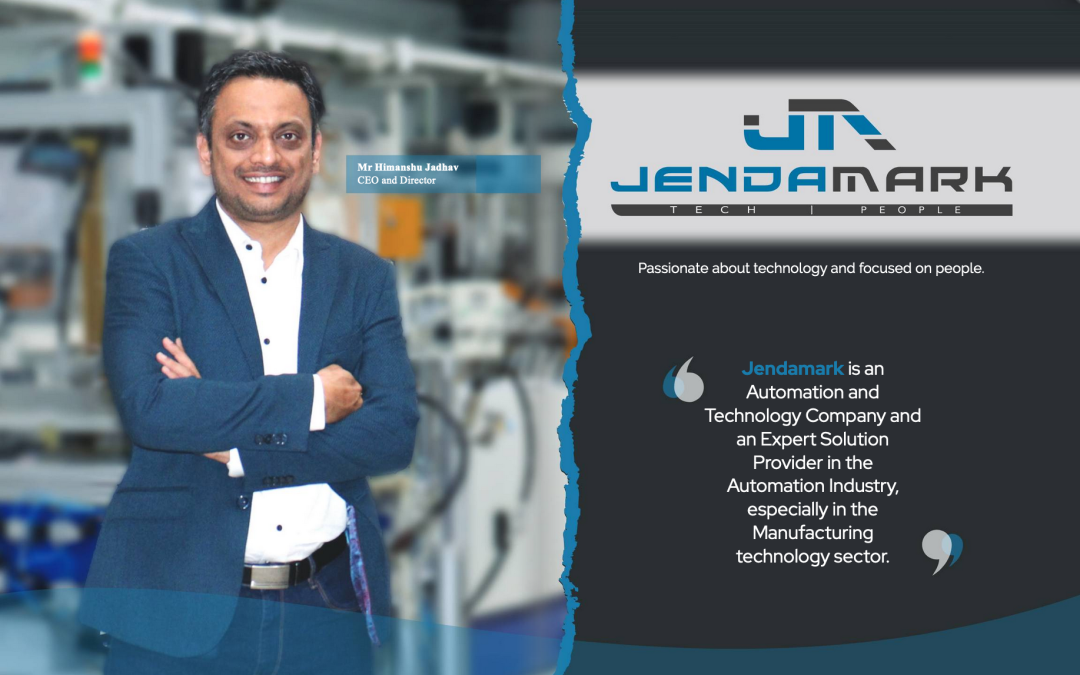 The modernistic sensation of Industry 4.0 is riding on the phenomenon of the digital revolution. It fuses technological intelligence and advancements with human smartness, erasing the boundaries between physical, biological, and digital realms.
Click here to see the original CIO Look India magazine feature.
The industries in the world are completely enamoured by this awe-inspiring necessity, trying to adopt it in their own ecosystem. Moreover, the manufacturing industry is very eager to embrace all the automation technologies offered on a significant benchmark. As many industry experts around the globe feel that the Industrial Automation is an advanced maze of futuristic technologies–at the same time–adopting it is a very intricate, elaborated, and time-money-efforts-driven process.
This is why industries, especially the manufacturing ones, urgently need the professional expertise of a specialist like Jendamark India Pvt Ltd, which has mapped a clear path through the technological maze of the fourth Industrial Revolution to take customers into the future of automotive manufacturing.
South African-based Jendamark Automation has been working with European countries for a long-time while ensuring knowledge sharing of this expertise, as well as the latest Industry 4.0 technologies, to Jendamark India. The company's vision is to be a leader in manufacturing technologies that helps its customers work smarter and build a better world for all.
In the expert words of Mr Himanshu Jadhav, the CEO and Director of Jendamark, "We have adopted a nine-pillar definition of Industry 4.0 to guide the way. Based on this definition, we have established a strategy to achieve these nine points."
Jendamark is currently developing the first eight pillars:
Integrated Systems Predictive Maintenance Additive Manufacturing Augmented Reality Internet of Things Simulation Autonomous Robots The Platform
Jendamark is an Automation and Technology company having its headquarters in Port Elizabeth, South Africa. Globally it has a presence in India, the US, and Germany. Jendamark is the Expert Solution Provider in the Automation Industry, especially in the Manufacturing technology sector. In India, it provides solutions in five business verticals,
Powertrains Assembly: Jendamark specialises in automotive powertrain assembly, which include engine, axle, transmission, and differential assembly lines from completely manual to fully automated systems.
Catalytic Converter Assembly Lines: Jendamark's adaptive canning facilities accommodate the most complex assembly requirements to meet BS6 exhaust emissions norms.
Electric Vehicle Assembly Lines: Jendamark designs and manufactures battery packs, motor lines, e-transmission, e-axles, and power electronics assembly systems for the electric vehicle market.
Aerospace Tooling: Jendamark India provides high-quality products to leading manufacturers in the aerospace industry.
Digital Services: Himanshu explains that in the company's Digital Services the CORE is human Centric approach towards Industry 4.0, this is what sets Jendamark apart from the rest of its competitors. Himanshu shares that at Jendamark, they believe in making the operators more efficient than just the machine more efficient.
They also believe that one of the most important driving factors for increasing productivity and efficiency in developing countries is not machines but the operators who work on and with those machines. This is the foundation of the ODIN Eco-system which is Jendamark's solution for the manufacturing sector looking to foray into the I4.0 world.
They are incredibly passionate about technology and keenly focused on people. They provide their customers with solutions with the latest innovative technology at cost-effective pricing.
Himanshu reveals, "We were the pioneers in setting up the electric vehicle assembly lines way back in 2017-18.
Also, currently, we are the only company in India which has the know-how and has delivered the Catalytic Converter Assembly Lines. We are very proud of being one of the only three suppliers in India selected by Boeing for the defence programmes and for sure one of the only automation companies which also has its own developed dedicated digital service software to improve the efficiency of manufacturing lines. All in all, as you can see, we operate in quite challenging areas and, at the same time, it gives us the chance to be innovative. That's our DNA."
The Dynamic Leader Par Exemplar
Being the CEO and Director of Jendamark, Himanshu has almost 18 years of successful experience providing strategic, fiscal and operations leadership in uniquely challenging situations. He is a dynamic, result-oriented leader with a strong track record of performance in turnaround and high-paced organisations.
Speaking about the Fourth Industrial Revolution, Himanshu reveals that he heard about Industry 4.0 back in 2015-16 and felt that it is too early for companies in the Indian manufacturing system to adopt what has been worked out in the Western World. He and his colleagues at Jendamark quickly realised that the solutions offered in the western world would not fit as it is in the Indian market.
Himanshu explains that there are several reasons which are the main key differentiators between India and the rest of the world. One of the main differences is the huge population and the effects that a huge population has on the Social fabric, Economics, and Industry in general.
So, they agreed within their Board that they must have a Holistic approach, and after a lot of discussion and debate, they formalised a strategy for Industry 4.0 which was not machine-centric but human-centric.
The core objective was to improve the efficiency of the operators and the humans who actually operate those machines. Not just on the shop floor but also on the whole project cycle, they develop tools and solutions that enhance efficiency and productivity throughout the project life cycle. For example, in the design phase, the use of Virtual Reality and Augmented Reality tools.
The Human Foundation of Technovations
Himanshu adds, "To be honest, what sets us apart is not only our technical solutions but certain fundamentals with which we operate our business and what we strongly believe in. What differentiates us are the below five important aspects of our business.
People: We value Passion
Though we are a tech company, we value the spirit of our people more than their technical knowledge. Passion and tenacity are fundamental to every individual in our team, regardless of their role. With the right mindset, we can tackle any technical, commercial or customer challenge. We have proved this year after year in a global market.
Commitment: We never walk away. As a tech company that is constantly pushing new frontiers, we sometimes make mistakes. But no matter how painful the consequences, we always, always finish what we started. We remain humble enough to ask for help, whether from a supplier or customer. However, we take responsibility for our commitment – and we never walk away.,
Truth: In our actions, We believe in being honest in our ideas and, most importantly, our actions. It always leads to a positive outcome in the long run. Being candid with ourselves, customers and partners are challenging. But this has proven to be the bedrock of a great relationship. We strive to honour the truth – it is the responsible thing to do and leads to business success for all.
Future–Centric: Remaining relevant to our partners, securing our futures. We are always looking to the future. The relevance of our company to our customers/partners is of utmost importance; although proud of our achievements, we continually push new boundaries garnering strength from our successes and converted failures. We continually seek opportunities to improve for our suppliers, customers, and ourselves.
Community: Ubuntu – Humanity towards others. We remember where we come from. We are successful because of the community around us and have a responsibility to help those less fortunate in return. We do so with pride and passion. Ubuntu is an African philosophy of "humanity towards others," which is sometimes translated as "I am because we are." We take Ubuntu to heart.
The above driving principles drive us to deliver precise solutions to our customers." Solving the Riddle of Industry 4.0 through AI and ML Being an experienced leader, Himanshu's opinions on how adopting modern technologies like AI and ML impacts Industry 4.0 and how Jendamark is adapting to the change are crystal clear.
He reflects that the adoption of modern technologies like AI and ML has always been anticipated. In effect, they at Jendamark have been looking forward to identifying the right area where these can be deployed. With their strategy now, they are very clear that AI will definitely be a lot more useful in their context in Industry to make decisions which are repetitive in nature and can actually cause boredom to any operator.
Such decisions are difficult not because of the intelligence involved but because of their repetitive nature. It is possible that an employee can overlook or can have oversight in such areas.
This can lead to serious quality or safety issues. A similar thing goes with machine learning as well. To adapt to these new technologies, they already have a strong development team in India and South Africa. They are continuously working to identify, develop and integrate AI and ML in their existing machines and also develop new machine equipment solutions where the use of these technologies is further enhanced.
"We also feel that the use of AI and ML should not be just limited to equipment and machines, but it should be possible to bring these modern technologies into day-to-day business practices, which will make the decision-making process more evolved and educated, causing fewer errors," believes Himanshu.
Learning Ventured Marching over Obstacles Considering the current industry scenario, Himanshu accepts that challenges are numerous, but they at Jendamark look at all challenges as opportunities. The real challenge, he strongly believes, in the near future will be the availability and retention of the right talent required to drive their goals and targets forward.
As a technology-oriented company, the team constantly challenges itself to create new solutions and be innovative. "For this, we are always looking for the right kind of personnel, engineers, and solution providers to work with us. The huge explosions of opportunities and in relation to those opportunities, the availability of the right skills to work in these challenging situations is what I feel is going to be a difficult challenge," shares Himanshu.
To overcome these, they at Jendamark have already started their actions by having long-term agreements and associations with Universities across India. The idea is not just to have the agreement for getting access to their young Engineers but to prepare the students before they leave the colleges with what the company and industry expect.
Himanshu states, "The examples of this can be seen in our work which we are doing with MIT World Peace University and D.Y. Patil College of Engineering where our team has given Cobots, machines, Industry 4.0 solutions, and Cloud computing systems to the students."
Jendamark not only just provide these hardware and software but also conducts various seminars and webinars in these colleges to explain to students the usage of these.
"This way, we feel that we will have a very strong Industrial academia connection to overcome the challenge of the right resource required for our Industry," expresses Himanshu.
India on the Path to Complete Industry 4.0 Adoption When probed about when the Indian Industry will ultimately adopt the Fourth Revolution, Himanshu thinks that we first need to change the definition and understanding of what the Fourth Industrial revolution is with respect to India. "Because if you go on Google and try to learn about Industry 4.0, you might really get confused. Is it really for me? Is it going to help me? Is it worth it?
Such questions will arise in your mind," says Himanshu.
Since it's quite challenging to understand what does it really means. As there is too much information and too little actually to define as how to adopt it. So, in his opinion, first, there needs to be a modification in people's understanding of the Fourth Industrial Revolution.
He believes, "The adoption in totality will actually take a lot of time, but I think the process has already started. In fact, the adoption, in my opinion, got fast-tracked with COVID, and it worked as a catalyst to push the industry towards the first step of the fourth Industrial revolution, which is digital transformation."
The first simple step in digital transformation is moving from paper-based to digital processes. Use simple and essential digital transformation tools, and once that is done in parallel, the industry is moving towards the Fourth
Industry Revolution. Himanshu is quite confident that in the next four-five years' the industry will see mass adoption of the Fourth Industrial Revolution, "But again once we define the right way of the Fourth Industry revolution as I said before in the Interview. Being human-centric and value-driven is the key," says Himanshu.
Himanshu's Wisdom of Tranquillity
"To all the budding entrepreneurs who want to enter into the venture of Industry 4.0, please, my sincere request is to identify what you really want to do and not aim or copy somebody else," appeals Himanshu.
Second, be ready to fail and don't get disappointed with the failures. He honestly shares that they, as a company, have had several projects kickstarted with a lot of enthusiasm.
He accepts, "We walked through them, and unfortunately, they didn't work out and could not be put in the market." But that never stopped them from trying to do the next best thing. And that's what Himanshu advises everyone, "Do your own thing, do what you believe in your venture and be ready to fail, and even if you fail doesn't matter. Get up and start doing what you think is the next best thing. Eventually, success will be yours."
Future's Holistic Techno Lords
Revealing his plans on scaling Jendamark India's operations and offerings in 2022 and beyond, Himanshu says that they don't want just to get bigger but better!!
Their thought process is scaling up in terms of not only numbers but scaling up in terms of value that they bring to their customers.
Himanshu adds, "Definitely, we are looking at more lateral growth and not just vertical growth. Lateral growth in terms of our offering in our technologies means we have already ventured into software; we have now done a foray into delivering Cobots. These we feel will bring our company ahead by virtue of having a one-stop solution for most of the industry's needs."
Himanshu further says that employees are Jendamark's biggest strength, and they will be working extensively within their company with external partners and with the universities to scale their skills. Himanshu insists, "It's essential for us that we develop the skills of our employees so that they can create future innovative solutions."
"In terms of offerings, we see ourselves bringing in new innovative solutions. Also, new functionalities and products under our Odin Manufacturing Ecosystems. We will also launch Odin Education to bring education to underprivileged children," promises Himanshu.