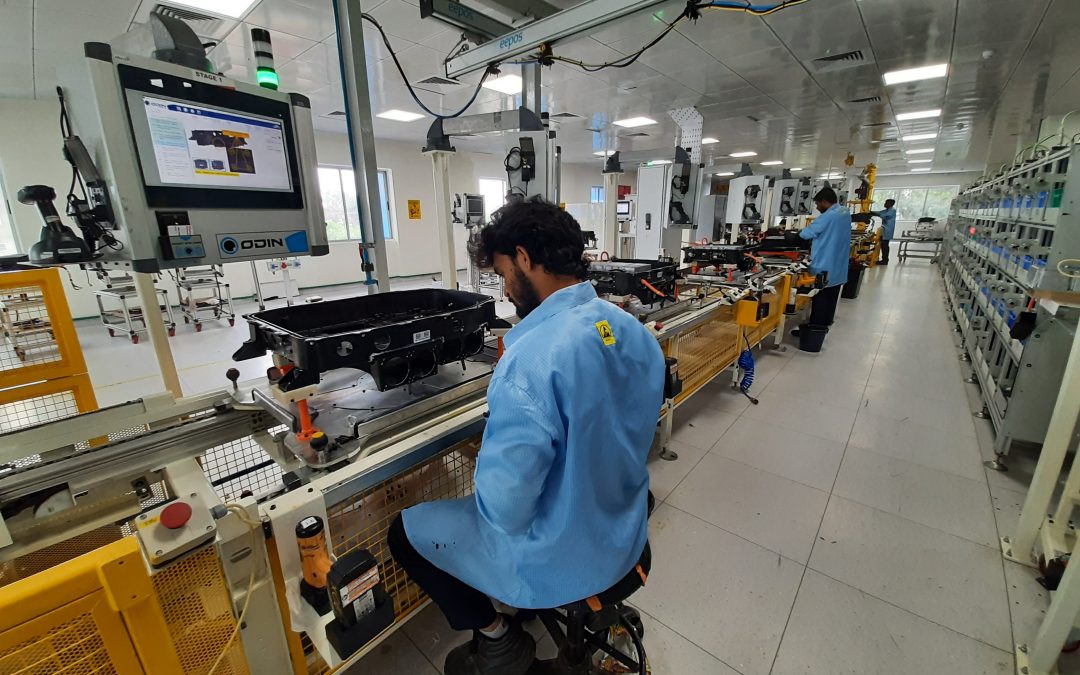 With the Indian government offering attractive incentives to electric vehicle (EV) buyers, Jendamark India is rapidly becoming a trailblazing player in the country's quest for cleaner energy.
India's proposed EV incentive scheme is set to offer significant tax breaks for consumers on the road to achieving a targeted 30% share of all new vehicle sales by 2030.
"Our government is really pushing this issue," says Jendamark India's CEO, Himanshu Jadhav. "To achieve this, the government is planning to reduce general sales tax on EVs from 12% to 5%. A few months ago, it was reduced to 12% from 18%."
Another proposal already implemented is that those buying electric vehicles will receive an additional income tax deduction of Rs 1,50,000 on the interest paid on loans taken to buy electric vehicles.
As a result, he says, buyers are warming to the idea of this new vehicle technology.
"According to a recent survey, 50% of car buyers in India are ready to switch to EVs if the infrastructure is available."
GOING GREEN
But, incentives aside, the global population in general has a growing awareness of the need to go green.
"Awareness and sensitivity towards climate change and pollution issues is a hidden force for the surge in EV market. Every individual globally wants to reduce his or her carbon footprint," says Jadhav.
This burgeoning market has seen original equipment manufacturers (OEMs) in India venturing into and ramping up their EV production, which has had a knockon effect for suppliers forced to embrace these new technologies.
Jendamark India has been at the leading edge of these industry developments, designing and building the first battery pack and power electronics assembly line in the country for Mahindra Electric Mobility Ltd.
Power electronics consist of a charger, variable frequency drive and all electrical signal processors which power the vehicle, whereas a power pack is a cluster of batteries put together as a pack which powers the vehicle.
"Battery pack assembly is new technology in India and local equipment manufacturers are not available for EV manufacturers in India, so we have had to depend on European and Chinese equipment suppliers," Jadhav explains.
"However, Jendamark has invested strongly in the research and development, design and manufacturing of such equipment in India. Our Industry 4.0-enabled assembly lines are helpful in increasing production and lowering the manufacturing cost of battery packs that fit in EVs."
In fact, battery costs are expected to be cut by half while performance is expected to double over the next decade.
BUILDING BATTERIES
Jendamark's global head office in South Africa has played an integral role in the design process for Jendamark India's first EV power pack assembly lines, providing the benefits of its three decades of automotive expertise where needed.
"Following the design phase, we recently built and supplied two assembly lines, both manufactured in India, and are in the process of executing an expansion project for the addition of new variants on the existing lines," says Shashikant Chaudhari, who was Jendamark India's management representative on this project.
The human component has also not been overlooked when it comes to technological development.
"Batteries being assembled carry charge. Human safety is very important when you handle charged batteries. Using Jendamark's own digital manufacturing software, Odin, we monitor and instruct operators in following right assembly sequence to ensure their safety."
While venturing into new territory has had its challenges, Chaudhari says it has been an exciting journey so far.
"Jendamark is an expert in powertrain solutions for internal combustion vehicles, while EVs have a completely different powertrain. But EVs have brought us tremendous new learning opportunities."
FACT BOX: CLEARING THE FOG
At the heart of India's push towards EVs is the government's all-important clean energy policy aimed at reducing toxic pollution levels.
Severe traffic congestion in India's major cities can result in average trip speeds of less than 20 kilometres per hour.
At such speeds, vehicles emit four to eight times more than they would under less congested conditions.
Vehicles also consume more fuel per trip and produce a higher carbon footprint due to congestion.
According to the website India Today, on Diwali night 2019, many areas of Delhi recorded an Air Quality Index of 999 – 16 times higher than the prescribed limit.