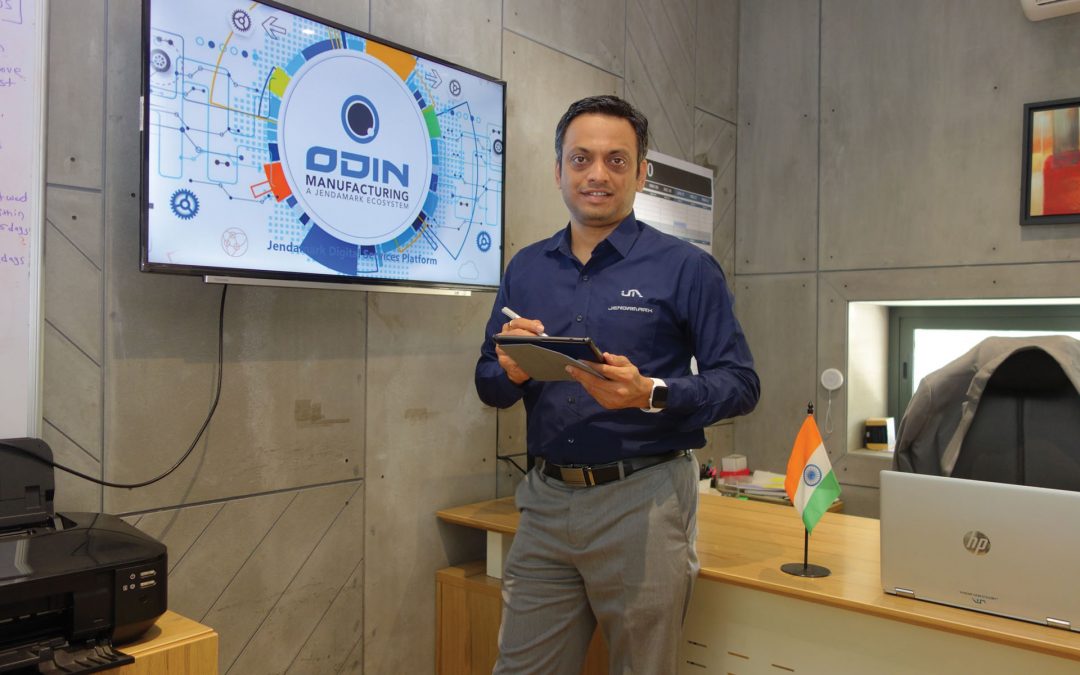 Jendamark India CEO Himanshu Jadhav shares his industry expertise in the latest issue of Efficient Manufacturing magazine.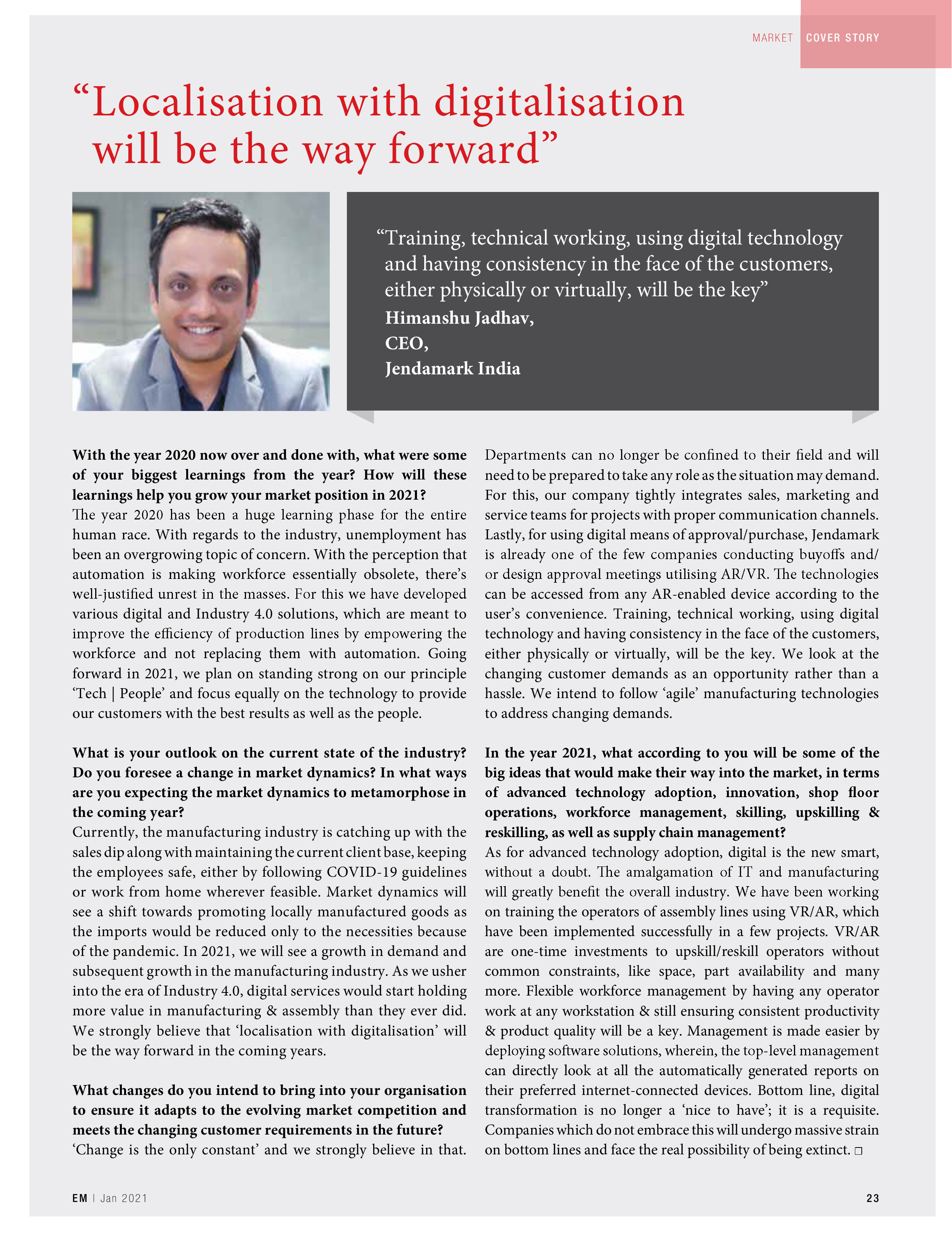 Source: Efficient Manufacturing
Imagine being able to view your new machine or assembly facility in 3D from the comfort of your home, office or golf course. Jendamark's remote virtual design approval is now a reality with Odin AR.
Jendamark has been offering a virtual design approval process for all customer projects since 2019. A visit to the South African or Indian manufacturing facilities often involves stepping into the fully equipped virtual reality (VR) room for an immersive experience of the customer's design.
But since the Covid-19 pandemic and subsequent lockdowns made this temporarily impractical, the tech teams turned their minds to the idea of a remote, augmented reality (AR) solution.
"For VR, we had been using Autodesk Inventor with our own content creation," explains Jendamark India director Himanshu Jadhav. "In mid-April 2020, when Google launched an AR experience to blend digital content into the real world, this got us thinking – and Odin AR was born."
Jadhav says the objective is to give customers the ability to view their designs in 3D in 1:1 scale, take a closer look at the details and explore different sections from afar.
"The best part of Odin AR is that you don't need any special hardware or software. All you need is a smart phone with the latest Android or IOS software.
"Our design and tech team create the designs and convert them into AR-ready content. They then generate a link using our cloud service and send it to the customer. All the customer has to do is click on the link and pan across a vacant floor space – and the designs just pop up in front of him or her."
Jadhav says Odin AR has been available since August, with Dinex, ATS EOL and Tenneco among the first customers to try the technology.
"This will absolutely become part of our standard offering moving forward, and we are working hard to perfect it and create an even more advanced and feature-loaded experience.
"Just imagine a customer being able to use it at the airport, in a hotel room or working from home. Without any special hardware or software, he can view designs, give us valuable feedback and get the 3D immersive experience feel."

DINEX AND THE NEW REALITY
Finland-based Dinex recently commissioned Jendamark India to build canning lines and an after-treatment system assembly line. As their main team is based outside India, AR has become a big advantage. Dinex group engineering manager Kalle Puurula explains why.
Q: With Covid-19 disrupting normal travel and business, how did you experience the virtual 3D design approval process?
A: In these serious times, I have had the great opportunity to get to know and learn the future way for 3D design approval with Odin AR. In the beginning, it was slightly strange that I was looking at 3D models on my mobile instead of playing the same on a laptop with real 3D design software. Sometimes I'm expecting to find the same features as in a 3D design program before I realise that it is not the idea behind this. I have been showing this application to many people and they have been surprised and shown interest in it.
Q: What are the benefits of being able to do virtual 3D design approval?
A: For me, the biggest advantage has been to see the actual size of designed parts. For example, the workstation ergonomic detail has been nice to look through with Odin AR, using a real person in the camera view. The fact that this works on mobile means it's always available once you get the idea.
Q: Do you see this becoming a normal way of conducting the approvals process in the future?
A: This kind of virtual 3D process will absolutely become more common in future and take on a bigger role in the design approval process. It only takes a few moments to become familiar with it. Good job, Jendamark.