From starting as key account manager for a previously unknown core business to setting up the whole Jendamark India marketing division, Sayali Mahajan's career journey has certainly been a challenging one.
"Five years ago, I started my journey with Jendamark as a key account manager for catalytic converter assembly lines. The canning business was very new to India and nobody really had much of an idea of how it worked and what it takes to install a canning line. It was very challenging and exciting to go through the process. I also worked as a project manager for the first ever canning line delivered by Jendamark India.
Being a woman working in a hardcore manufacturing industry can be a bit tricky. Many times people tend not to take you seriously. We always have to put in extra efforts to prove ourselves and make our opinion or work valued. Personally, I have never felt that I am less than any man when it comes to my work as I have the knowledge of the products I am selling. I am also willing to learn and get better at it. I love my job and all the challenges that come along with it.
After my maternity leave, I was promoted within two months to head of marketing for Jendamark and all other associated business verticals, including ODIN Manufacturing, ODIN Education, eepos and Dobot. Before I came into the picture, there was no dedicated marketing person or team. Marketing activities were ad hoc but the rapid growth of our business has meant that leveraging the Jendamark brand has become a key function within the company.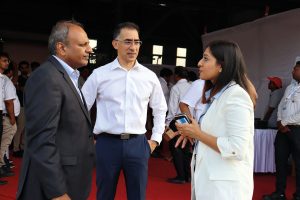 It was a great experience building a team and creating marketing strategies for all the different business verticals as we knew we couldn't have the same strategy for all.
I was adamant on hiring all women in my team. I am extremely proud of the fact that my entire marketing team is female. We are a 'Girl Gang'.
Unfortunately, there is this mistaken impression, which many people have, that girls have it easy or we have to make less of an effort in our jobs. But the reality is that we are expected to deliver the same results as that of any male employee and even put in extra effort to get there as we have to take care of our work, our children and our families too.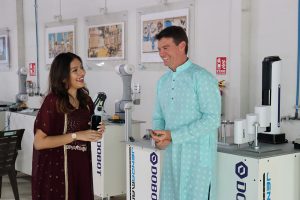 After having my baby, I thought it would be a bit difficult for me to manage work and my child, as I have to travel a lot for my job. But flexible working hours and work-from-home facilities made it easier. My child is also very accommodating and co-operative. My baby is my biggest cheerleader.
My Jendamark journey has been an amazing rollercoaster ride. I have learned a lot, made use of all the different opportunities I've been given, and gotten to do so many new things. I am sure my next five years will be as exciting as the last five years."